Safety first
Always keep the recommendations of Safety Information in mind. Spending some extra minutes on safety, keeping the workspace clean and ordered can save several days or weeks in case of malfunction or damage!
DANGER

ROTATING PARTS can cause serious injury.

Keep hands clear. Before starting motors, ensure that all moving parts are reliably secured and assembled. High speed moving parts are very dangerous. Never try to brake the motor with your hands.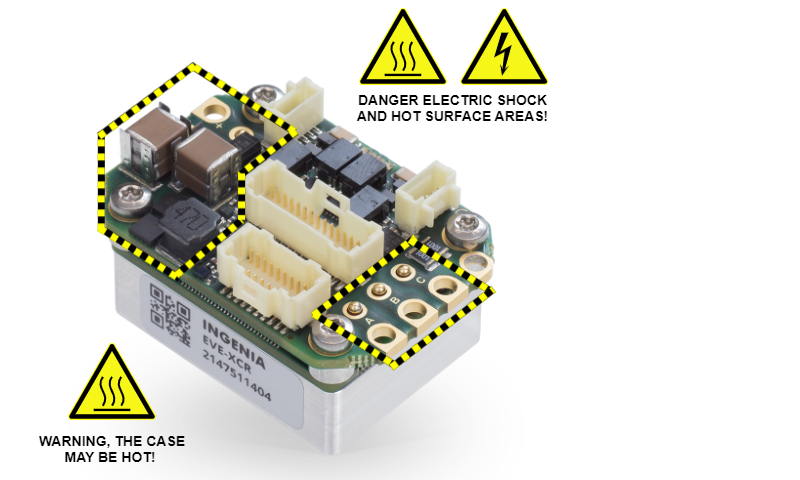 Initial Commissioning
Once the Everest has been installed as described in Installation, wired according to the Wiring and Connections and Pinout, the initial commissioning can be performed following the Quick Start guide:
Decommissioning
Before decommissioning, ensure the power supply is off (wait a minimum of 5 s for capacitors to discharge), and the drive is cool.
First, disconnect all the cables and connectors.
Then, removing the Everest from the plate or heatsink carefully following this sequence:
Remove the 4x M2.5 screws.
Separate the Everest from the heatsink by prying off, torquing, or peeling. Make sure the forces are applied to the Everest enclosure and not to the PCB or connectors.
The thermal tape will be destroyed upon separation. The surfaces should be re-cleaned according to the recommendations mentioned above. Do not try to reuse the thermal tape.
Heating the substrates can reduce the adhesion level and make removal easier
If you need disposing of the Everest, please:
Be sure to comply with local disposal regulations.
Separate the housing part made of aluminum.
Dispose of the parts following the applicable legal regulations regarding electronic waste.
Dispose of the packaging material following the applicable legal regulations.